Imaginary Award for Best TV Show
Winner! The Expanse, season 3
Counterpart, seasons 1/2
The Terror, season 1
Electric Dreams, season 1
Star Trek: Discovery, season 1 (second half)
The Good Place, seasons 2/3
She-Ra and the Princesses of Power, season 1
Winner! The Expanse, season 2
BoJack Horseman, season 4
The Handmaid's Tale, season 1
Runaways, season 1
Star Trek: Discovery, season 1, part 1
Steven Universe, season 4
Stranger Things, season 2
Imaginary Award for Best TV Show Episode or Arc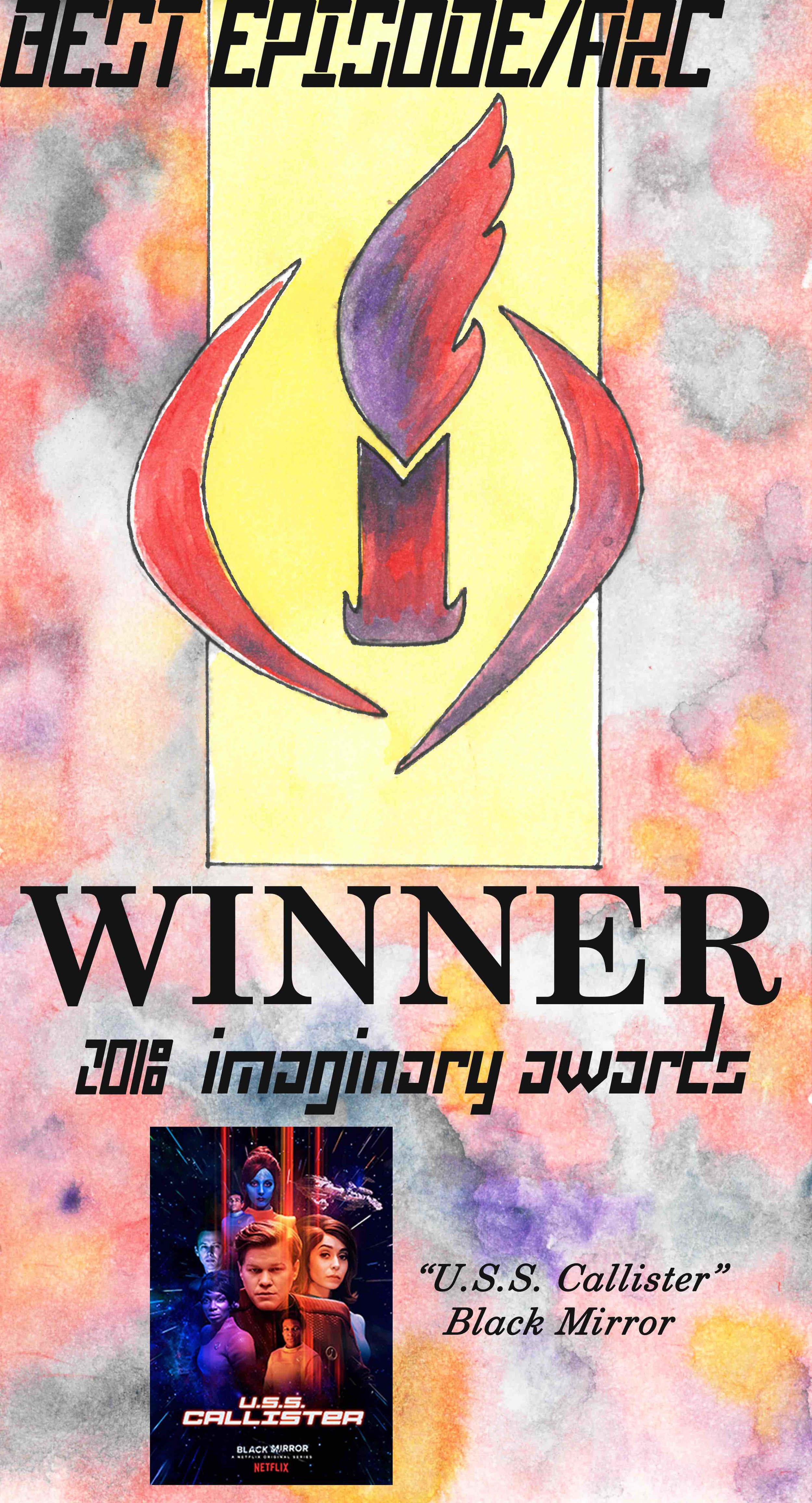 Winner! Black Mirror: "USS Callister"
Counterpart: ""The Sincerest Form of Flattery"
Steven Universe: "Can't Go Back" to "Legs From Here to Homeworld"
Electric Dreams: "Kill All Others" & "Real Life"
Star Trek: Discovery: "Into the Forest I Go" to "Will You Take My Hand?"
The Expanse: "Fallen World" to "Abbadon's Gate"
BoJack Horseman, "Time's Arrow"
The Expanse, "Godspeed"
The Handmaid's Tale, "Offred"
Star Trek: Discovery, "Magic to Make the Sanest Man Go Mad"
Steven Universe, "Stuck Together," "The Trial," "Off Colors," and "Lars's Head"
Imaginary Award for Best Movie
Winner! A Quiet Place
A Wrinkle in Time
The Incredibles 2
Black Panther
Sorry to Bother You
Imaginary Award for SFF Song or Single
2017
This award didn't exist until 2018.
Imaginary Award for Best Onscreen Moment
2018
We retired this award after 2017.
Winner! Star Wars: The Last Jedi: Leia re-enters the ship
Colossal: Gloria contemplates killing Oscar
The Expanse, "Godspeed": the asteroid moves
The Shape of Water: Elisa dances with Amphibian Man
Stranger Things, "The Spy": hairstyle tips from Steve the babysitter
Stranger Things, "Will the Wise": Joyce asks Will to stop lying, Will tells all
Wonder Woman: Diana in no-man's land
Your Name: the first journey to the shrine